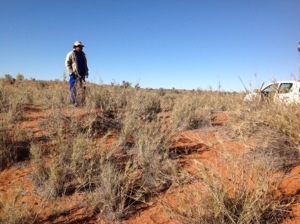 Between 5th and 9th of August the Desert Research Foundation of Namibia (DRFN), Windhoek, Namibia together with a team of researchers from the North-West University, Potchefstroom, South Africa conducted an assessment of livestock farmers' perceptions toward land degradation and climate change in the Namibian and South African part of Kalahari. The study was carried out with commercial farmers who are farming in the sandy pastures of Kalahari, both in South Africa and Namibia. the study in Namibia was done around Aroab in Karas region.
Individual in-depth interviews were held with five farmers in the Namibian part of the study area. A high resolution print out of a Landsat satellite image recorded just after the rainfall season 2012/13 was presented and discussed during each interview. Each farmer was asked to describe the condition of his farm and surrounding farms.Specific features, e.g. fire scars and areas with different spectral signatures were discussed and farmers' ideas about why different areas look the way they do were recorded.
This survey is the first within the project: Impacts of different land use and land cover changes for climate change adaptation, funded by the South Africa – Namibia Research Partnerahip Program. The project is coordinated by Prof. Klaus Kellner at the School of Environmental Sciences and Development at North-West University, South Africa, and Dr. Patrik Klintenberg, former research coordinator at DRFN, now a researcher and lecturer at the School of Sustainable Development of Society and Technology at Mälardalen University in Sweden.
This initial survey will be followed by an in-depth assessment of farmers' perceptions in the part of the Kalahari shared between Namibia and South Africa. The next step is to analyze the outcomes of the interviews and conduct a thorough assessment of historical data, ranging from satellite imagery and aerial photographs to climatic and demographic information. Past and current policies will also be analyzed in order to determine if these policies have had a measurable effect on the state of the pastures.
Early 2014 findings will be presented and discussed with farmers in the study area in Namibia and South Africa. The expected outcomes of the project are new knowledge about farmers' perceptions of land degradation and climate change as well as their adaptation strategies related to these threats.
Findings will be communicated widely to local farmers and other decision makers on local to national levels in the two countries.