Early December 2013 the team implementing the Sustainable Abattoir project conducted an experiment at an abattoir in southern Namibia. The aim of the experiment was to determine the biogas potential of slaughter waste. The study is part of the project "The Sustainable Abattoir", which is funded by Swedish International Development Cooperation Agency (Sida) and implemented by the Desert Research Foundation of Namibia (DRFN), and Malardalen university, Sustainable Business Malardalen, and the Swedish Agricultural University.
The background to the study is a common waste management issue shared by many abattoirs in the region. Studies show that many abattoirs and tanneries struggle with their disposal of slaughter waste and this threatens to become a serious environmental issue in a near future.
The project investigates different approaches towards improved solid waste management at abattoirs and tanneries in Namibia and neighboring countries. One approach that is being investigated is biogas production using the slaughter waste and sheep manure.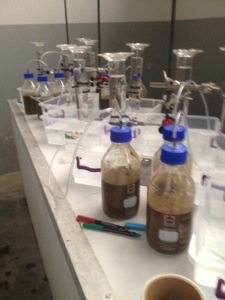 Figure 1. Laboratory setup.
Different mixes of the substrate were tested and initial results show that biogas can be produced only using the waste coming out of the slaughter process. This is a very important finding as previous studies have concluded that additional green matter has to be added to the substrate to produce biogas from slaughter waste.
The findings of the experiment are being analyzed and will soon be published.